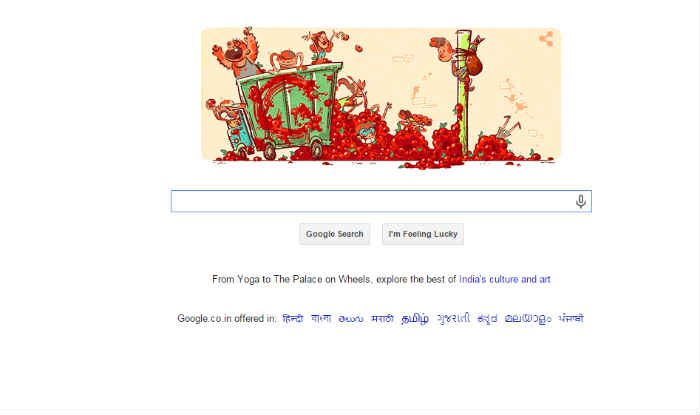 Google is celebrating the 70th anniversary of the largest tomato throwing festival 'La Tomatina' with a fun animated doodle. The Google Doodle shows people having fun throwing tomatoes at each other and the words Google splattered in red tomato mush.
La Tomatina festival is celebrated every year in Spanish town of
Buñol
on the last Wednesday of August and lasts for one hour from 10 AM to 11 AM. The Festival sees around 40,000 people pack the streets to hurl 40 Tonnes of tomatoes at each other in the biggest food fight in the world. There are simple rules that have to be followed during the festival, tomatoes have to be squash before throwing, only tomatoes can be hurled at other; give way to lorries, don't tear t-shirts/clothes and stop when you're told to.
The festival originated in 1945 when a group of young men staged a protest in the town square and started hurling tomatoes from nearby vendors forcing the police to intervene. Since then the festival has gained a lot of popularity and was declared an official festival in 2002 by the Spanish Department of Tourism.